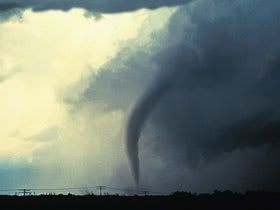 With the recent tornado outbreak in this area I thought it would be nice if we could use what we have and share with our "neighbors" that have lost so much.  I know the Joplin tornado is all over the news and I feel for that town as well as Reading, KS.  Yesterday I did some checking around to see what we could do to help the Reading community and a reader, Tamara contacted me to let me know she would be heading to the area later this week and would be dropping off supplies to a friend who will be heading in to Reading.  It sounds like you can't just go in "unannounced".
I wanted to see if anyone would be interested in donating items for the folks in Reading.  Tamara is planning to come through Topeka Saturday morning, so I could get things together by Friday evening for her.  If you are interested in putting a few things together please leave a comment in the section below or send me an email at seemesave@hotmail.com.
Here are some of the items they could use:  Non-perishable foods, bottled water, sports drinks, juice, diapers, pull-up diapers, baby formula (powder), baby wipes, toothpaste, tooth brushes, personal hygiene items, socks, undergarments, toilet paper, paper towels, flashlights, batteries, trash bags, tarps, plywood, sheets, shovels, sunscreen, bugspray, work gloves, office supplies (pens, paper, staples, etc.), safety goggles, ponchos.  Clothing is not requested at this time. 
If you would like to donate cash you can contact the Red Cross or Salvation Army.
This post may contain
affiliate links
. Thanks for your help on supporting this site!